Enhancing Individual Performance
Ensure candidates are the proper fit for your corporate culture, team dynamic and specific job requirements. Through extensive testing and analysis, Advanced Insights partners with you to match skill and style with the position to maximize long term success.
Strengthen and develop mid- to upper-level management associates with one-on-one assessment and coaching in order to increase your company's leadership bench strength.
Advanced Insights
Helps you
Build on the strengths of
INDIVIDUALS,
TEAMS and THE
ORGANIZATION
To create a cohesive,
profitable business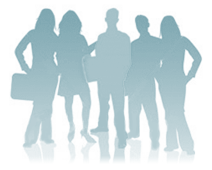 Increasing Organizational Effectiveness
Improve your organization's leadership capabilities through customized seminars on a variety of topics, including communication style, influence and emotional intelligence.
Foster open communication and improve employee morale with custom-developed surveys that identify organizational strengths and uncover opportunities. Advanced Insights analyzes survey results, provides recommendations and assists with the implementation of action plans to help create an optimal working environment.